Meditation
November 2022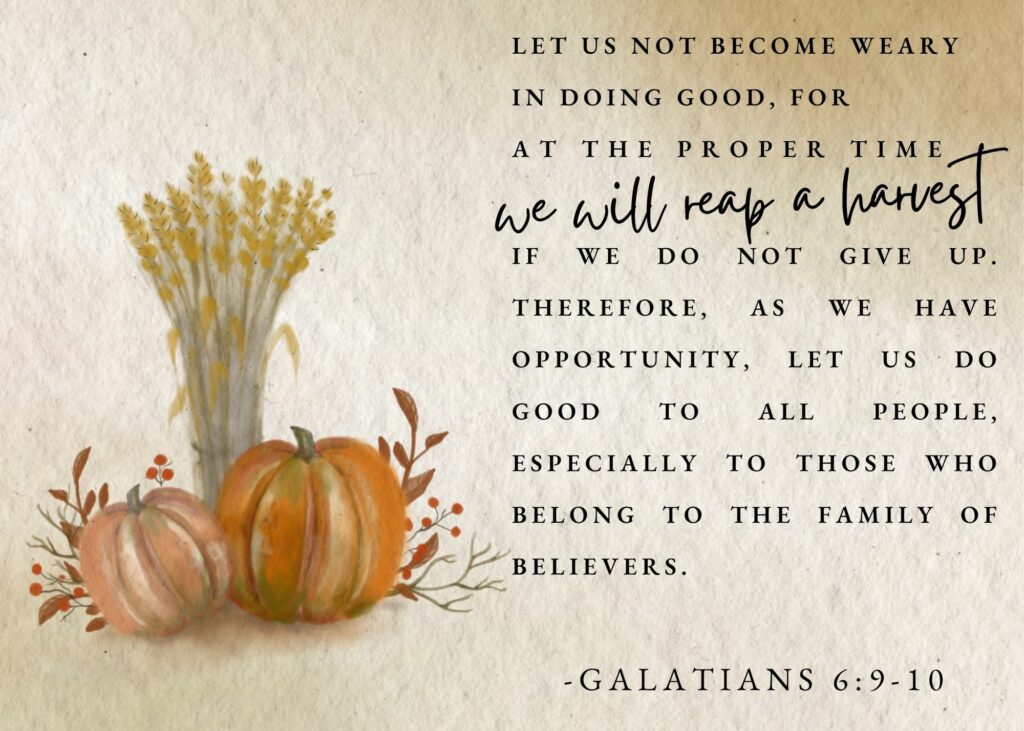 Work and Reward
---
by Jodi Hiser
One of my favorite indulgences is a stash of homemade chocolate that sits in a small glass container inside my freezer. It is my 'job-well-done chocolate' that is on reserve for long days. Everyone in my family knows that this is Mom's chocolate, and to venture inside the glass container would lead to peril. This tiny treat is comforting to me, knowing that it's there, like a little hug, waiting to soothe the chaos that often follows me in my daily work.
This is silly, but sadly true. Even as an adult, I depend on rewards to boost my morale, or help me make it one step closer to the finish line of my day.
Aren't we all like this to some extent? We are driven by rewards. We may choose one job over the other because the monetary benefits are better. We choose to exercise or eat right because we want the outcome of a healthier body. We may choose to work extra long hours so we can have the reward of the long-awaited vacation at the end.
Our works are fueled by a motivation for rewards. We work hard because we know something wonderful and positive is at the end to congratulate us.
So what reward motivates you?
The Bible says that "Whatever one sows, that he will also reap." (Galatians 6:7)
This may seem like common sense. The amount of effort that goes into our work coincides with the amount of benefit we receive from it. But the Biblical teaching of sowing and reaping goes beyond the amount of effort we put forth, focusing on the motivation behind it all.
"For whoever sows to please their flesh, from the flesh will reap destruction; whoever sows to please the Spirit, from the Spirit will reap eternal life." (Galatians 6:8)
The motivation behind our work matters. Our efforts can never merit salvation, but they are a natural response to the salvation that we already have in Christ. As believers in Jesus, we can be assured that our works are to be done in the focus of eternity, serving others and the Lord. But our work has an amazing benefit: it produces the reward of harvest.
"And let us not become weary in doing good, for at the proper time we will reap a harvest if we do not give up." (Galatians 6:9)
We are called to sow works of the Spirit. And as we sow to please the Spirit, we will reap eternal blessings. We ourselves will bear fruit. We will blossom the rewards of love, joy, peace, patience, kindness, goodness, faithfulness, gentleness, and self-control. The harvest is the sanctification that God is cultivating in us, enabling us to be the wives, mothers, daughters, or sisters that God is calling us to be.These are the rewards we will receive, and these are the rewards we should seek.
Women can easily become weary. We wear many different hats, trying to be everything to everyone. The world's expectations upon us are often inhuman and unattainable. But in the calling God has given us, we are exhorted to persevere. Galatians reminds us— do not grow weary! Don't give up!
What is pressing upon you today to give up?
In moments of defeat, we can take comfort that the Lord holds us fast. He is the one who equips us for every good work (see also Hebrews 13:20-21). The most beautiful aspect of these verses in Galatians is that the rewards of sanctification don't come from us. The fruits of the Spirit are not developed as we work harder, try harder, or do our best to be better. This fruitful harvest is developed in us only through our union with Christ. And as we are united to Christ by faith, and as we seek Him daily, He works in us through His spirit to grow us to become more like Him. He enables us. He preserves us so we can persevere.
This is good news for any weary soul. But oh, fellow tired friend, our work matters. The Great Shepherd and the God of peace is the One who enables us to do every work that He is calling us to do.
So then, is there anything wrong with working for that chocolate in the evenings? Or putting pennies in a jar for that long-desired vacation? Of course not. But when we place our hope in these benefits, and put our heart and soul and entire focus onto these earthly rewards, we begin to sow our efforts in the wrong place. And a wrong focus can quickly put our feet on the road toward idolatry and destruction.
Dear weary traveler, let us encourage each other to keep our eyes focused on Christ. We need each other to hold one another up in prayer and support when one of us feels too tired to continue. As we become a community of encouragers, and as we keep our eyes focused on Christ, He will develop in us the fruitful rewards that are everlasting, far greater than any harvest we could ever imagine here on earth.