Meditation
May/June 2022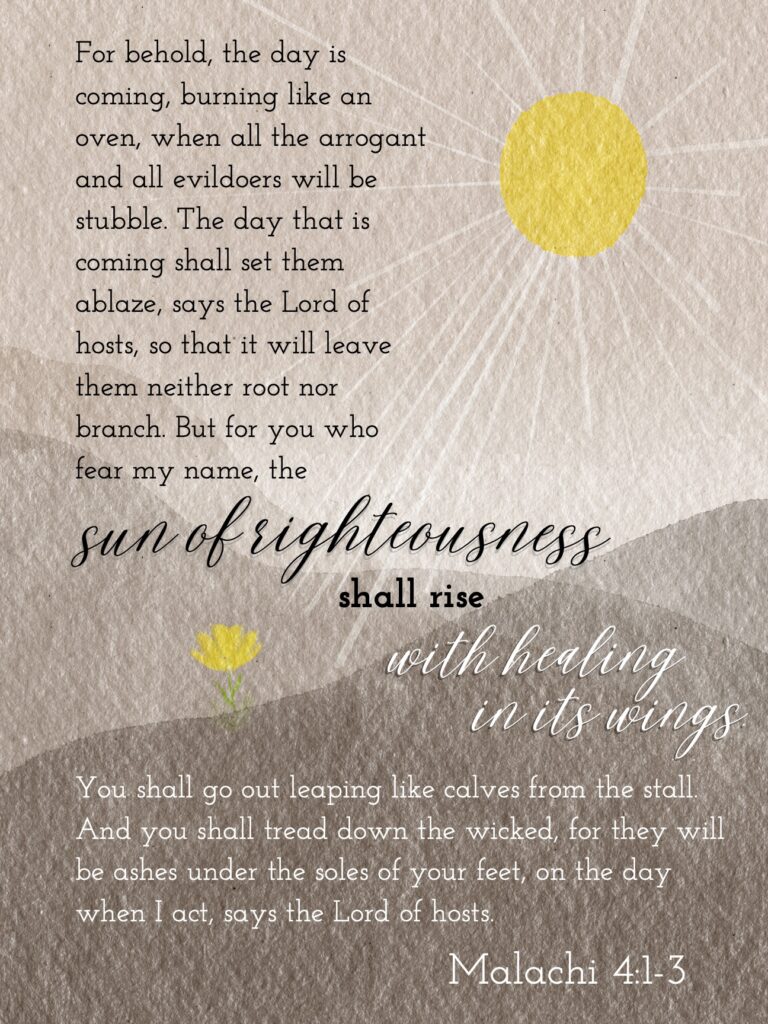 The Ultimate Sunrise
---
by Jessamyn Rains
Suffering is most acute in the dark hours of the night. The grief-stricken, the anxious, the depressed, the lonely lie awake, oppressed by sleepless ruminations. One painful thought touches another, and anxieties multiply. Depression deepens. Hopelessness expands in every direction.
The sun…will rise…
With morning, the light comes, and anguish recedes. The sunrise brings concrete duties and responsibilities, and the torments of the night go into remission. Dark thoughts are shaken off. Possible solutions present themselves. Heaviness lightens. Distractions bring temporary relief.
The sun of righteousness will rise…
Malachi 4:2 gives us a powerful image: the promise of an ultimate, powerful sunrise that will bring more than just a day of earthly light and heat. This sun isn't just a majestic glowing ball of gasses; it is a sun of righteousness. It lights every dark thing. It rights every wrong thing. Crooked roads are made straight; rough places are made smooth. Confusion and deception about good and evil–old as humanity–are cleared up once and for all.
The sun of righteousness will rise with healing in its wings…
When Christ the Great Physician came to this earth, He showed us that the heart of our Father is full of compassion for His children's infirmities. He healed the sick, cleansed the lepers, raised the dead, delivered the demon-possessed, opened the eyes of the blind, and forgave sinners.
Today, Jesus is still our compassionate Great Physician, ministering to us through His word and through the Holy Spirit. He invites us to come to Him with our sufferings–our physical illnesses, anxieties, hang-ups, bruised relationships–and all the things that keep us up at night.
Most importantly, He invites us to come to Him for forgiveness of sins, that we might be eternally reconciled to God.
"…and you will go forth and skip about like calves from the stall."
The result of this healing is freedom, lightheartedness, innocence and joy. Many have not experienced this kind of lightness since childhood; some have never experienced it at all. It is the removal of every source of guilt, shame, pain, anxiety, and misery. It is an unfettered, unreserved delight.
Yet, there is a condition for this promise: for whom will the sun of righteousness rise with healing in its wings?
Unto those who fear [His] name.
The verses preceding and following verse 2 show us the fate of those who do not fear His name. It is a harsh, terrifying warning. The good news is that we don't have to have everything figured out, straightened out, and fixed in order to heed the warning. We can come to Him as we are and pray, "Lord have mercy on me, a sinner." He freely forgives, and through His suffering, death, and resurrection, we can have reconciliation with God and embrace this promise of ultimate healing.