By Chelsae Moore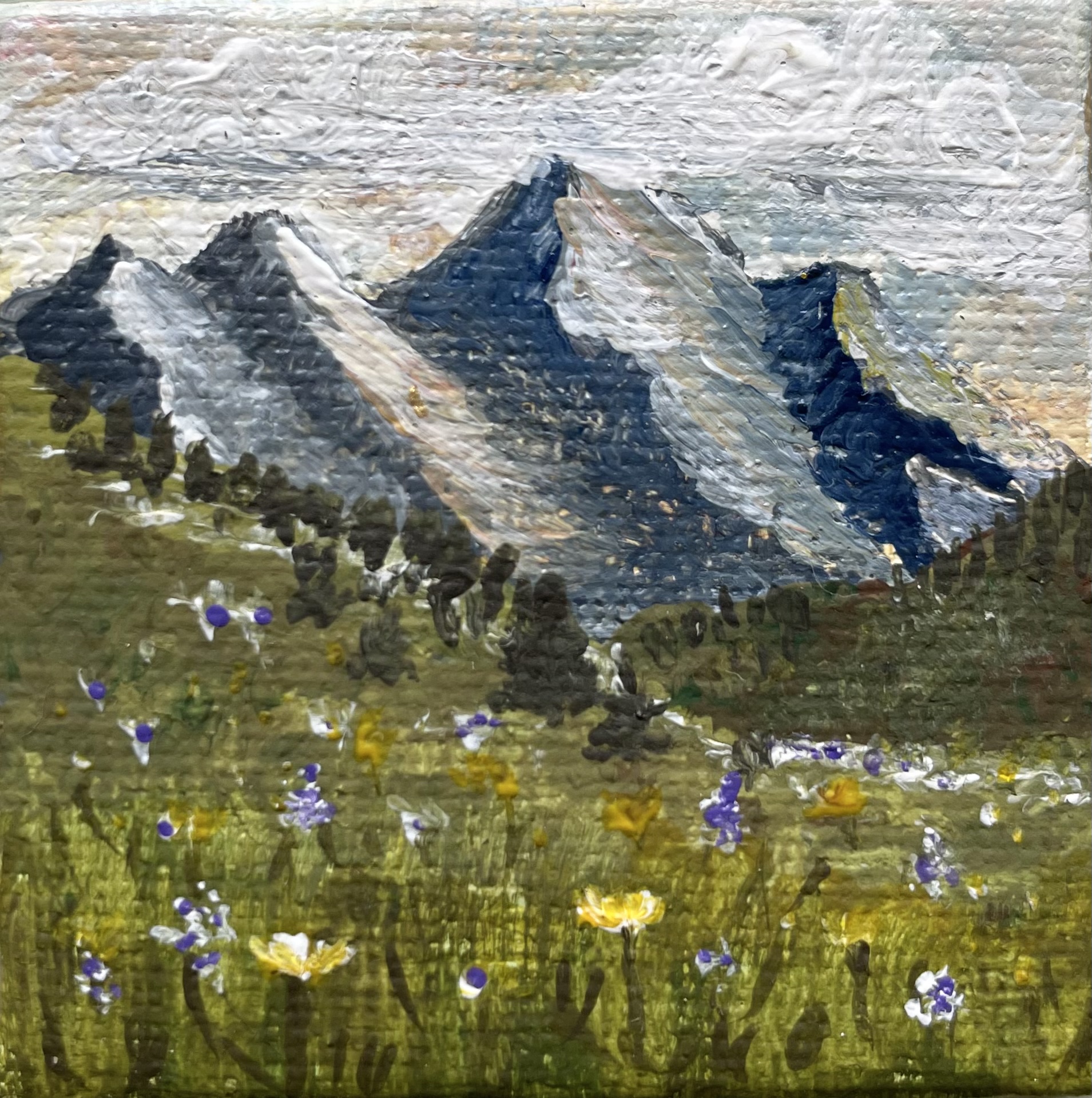 Friend: "Have you spent much time in your art studio lately?"
Me: "Well, these days it's in about 15 increments here and there, usually after the kids are tucked into bed. So I've started to practice art on a slightly different scale."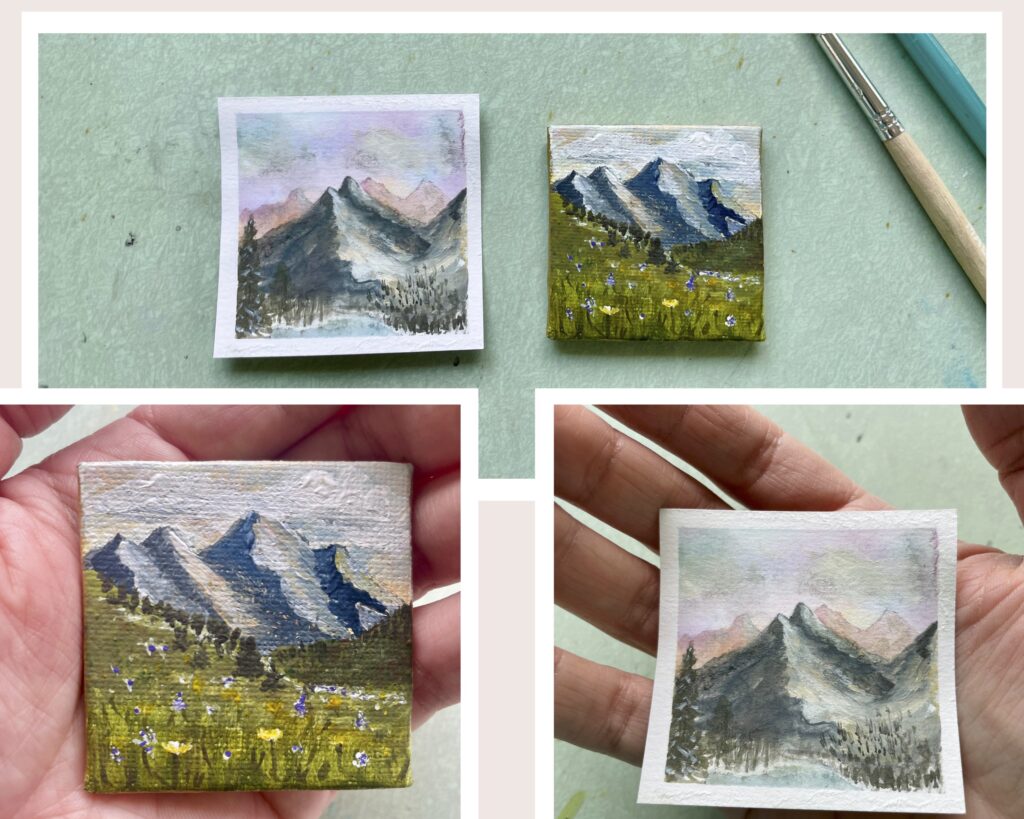 The backstory. . . I bought the pack of tiny two inch by two inch canvases for a craft project for my 4-year-old and 1-year-old. Let them finger-paint, slap an adhesive magnet strip on the back, and done! Instant grandparent gift.
When I was expecting our first child, my husband built me an art studio to give me a place that was dedicated to all of my various art projects and their accompanying supplies.  As to be anticipated, however, priorities have shifted over the past four years of motherhood, and I have spent less time in my "creativity corner" than I once did. 
But one evening between dinner, collecting the eggs, and waiting for the summer sun to set so that the chickens could be cooped for the night, I found myself with a few spare minutes (and the art studio beckoning). I dug out one of the mini canvases stashed away in the craft drawer, put a few dots of paint on the palette, and by the time the chickens were roosting I had a new magnet and had discovered a new way to fit a small bit of creativity into a busy day: miniature landscapes.
Having spent part of my childhood in Alaska and the other part in the foothills of the Great Smoky Mountains, I have a particular fondness for mountain landscapes (and, well, let's be honest. . . I also grew up watching Bob Ross). Now when I see one of these little mountain scenes hanging on the fridge holding up a grocery list (and likely being splattered with bacon grease or the contents of an applesauce pouch) I'm reminded that in this season of busy-ness with small children, the moments, however brief, to step away from the scurry and wonder at the beauty of creation are a gracious gift from our kind Father. And it's an extra bonus if there is time enough to mimic His matchless creativity with some paint and a tiny canvas.
As I watch my sweet little children grow, I'm also reminded that life is a vapor and that the days of them being little are a quickly fleeting particle in that vapor. So for right now, I'll soak up all the snuggles and paint miniatures when I can in between.
About the Artist
---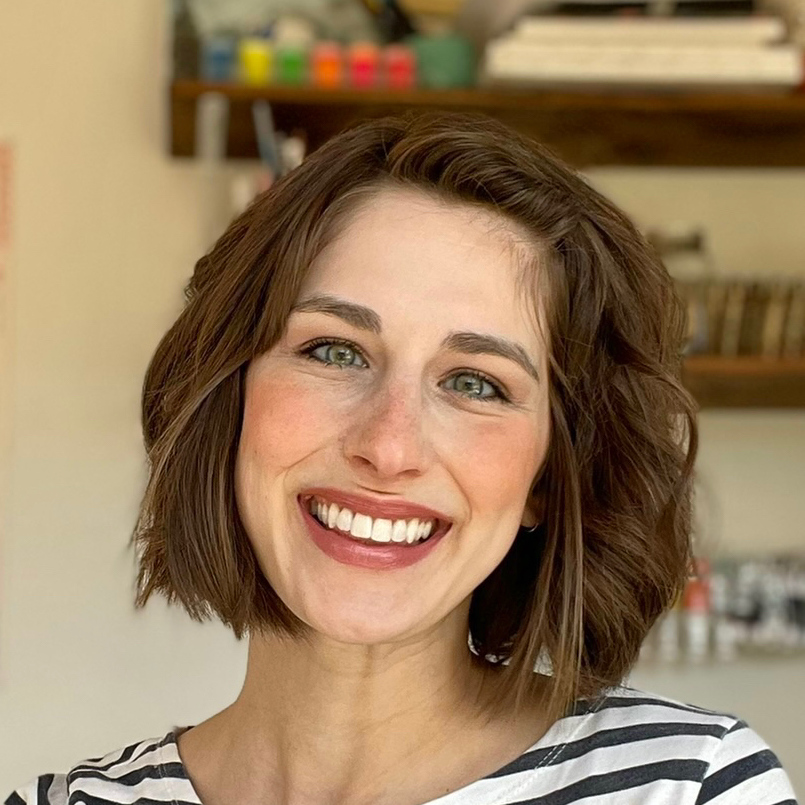 Chelsae Moore has her mom to thank for drilling her on famous masterpieces from the moment she could say, "Mona Lisa," thus instilling in her a love for various art forms at an early age. Chelsae resides on Signal Mountain with her husband and two sweet kiddos. She sneaks away to her art studio to play with watercolors and practice calligraphy when the laundry and dishes are done (and sometimes when they're not).