By Hannah Anderson
Excerpted with permission from Heaven and Nature Sing by Hannah Anderson.
Copyright 2022, B&H Publishing.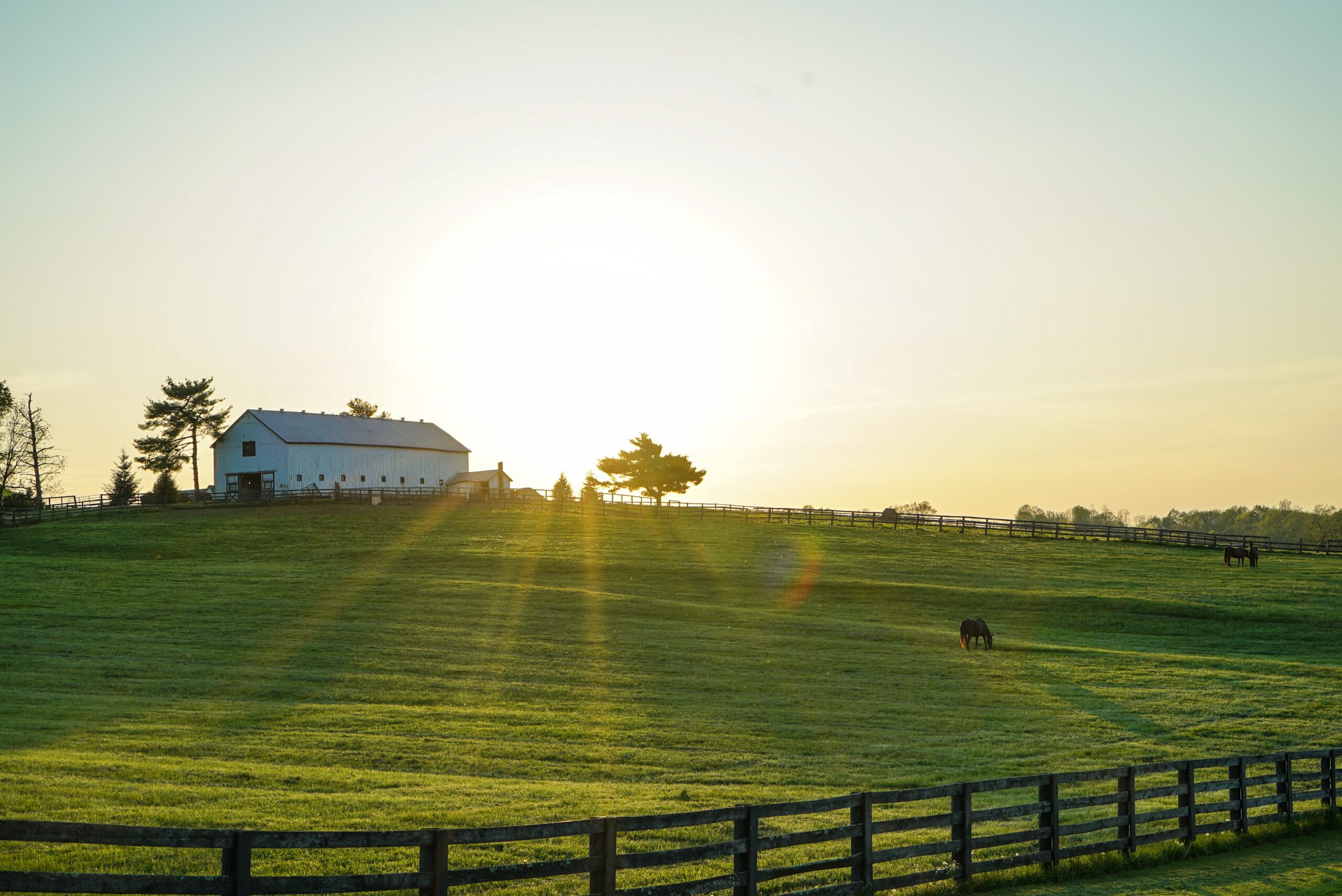 I grew up in Pennsylvania on ten acres of family land that had once been part of a larger plot of a couple hundred acres. But by the time I came along, the original farm had been sectioned off—either sold or parceled out through inheritance. My aunt and uncles each had their own acreage, but somehow we knew that the land belonged together. So, while our separate claims were always respected, I had free reign over the whole of it.
Here, in Virginia's Blue Ridge, the idea of "family land" or a "home place" is still understood although fewer and fewer plots remain intact. Like my family's experience, once large tracts have been whittled down through the generations or sold off when the last descendant moved out of the area. But even for those who want to stay, it's increasingly difficult. With the rise of industrial agriculture, smaller holdings struggle to make the land pay and heaven help you if you're the great-great-great grandchild tasked with keeping it together on your own.
So, when I read in Luke 2:3 that Joseph and Mary traveled to his hometown of Bethlehem "because he was of the house and family line of David," I know there's a story here.
Despite the initial background information about a census, scholars don't know exactly why Joseph had to travel from Nazareth to "his own town." If Bethlehem was Joseph's hometown, why wasn't he there already? Some suggest that Joseph actually lived in Bethlehem and had simply gone to Nazareth to bring Mary back home. But others think that Joseph lived in Nazareth and, like so many of us, he was displaced from his family roots.
During the exilic period, the tribes of Israel had been scattered or taken captive to Assyria and Babylon. And while some were able to return, many found their land was handed off from one empire to another—much the same way that indigenous peoples of North America found themselves removed from their ancestral homelands. It's also possible that Joseph's ancestors migrated to Nazareth for better long-term prospects, the way the Great Migration carried six million black Americans out of the South during the 20th century. Or perhaps, like folks tend to do where I live, Joseph's people simply moved for work.
But roots run deep and ties to the land remain. So regardless of the reason, when it came time to be counted, Joseph went to Bethlehem.
Theologically speaking, the reference to Bethlehem is an important link to David and presents Jesus as the Promised Son who would reign as King. As Gabriel told Mary, the child in her womb "will be great and will be called the Son of the Most High, and the Lord God will give him the throne of his father David" (Luke 1:32-33 CSB).
But there's something more. Luke makes a particular point to tell us that Jesus was only "thought to be the son of Joseph." And having just established the virgin birth, he is not arguing from Joseph's biological parentage. But he might be hinting to something in Joseph's ancestry—a memory of a family story, one handed down through the generations—a story that helps us understand the unique role Joseph will play in the Promised Son's life. It is a story of family land and hard times. A story of when Bethlehem, "the house of bread," stood empty.
Located roughly six miles south of Jerusalem, Bethlehem sits on a large aquifer. This water source makes Bethlehem particularly fruitful, which explains its historic association with food, provision, and fertility—one that predates the Israelites presence in Canaan. But during the time of the judges, a famine covered the land, and like so many others throughout history, Joseph's ancestors, Elimelech and Naomi, were forced away from their home in search of food. By the time the famine had lifted, Elimelech and his sons had died in Moab, leaving Naomi and her daughter-in-law, Ruth, alone and without heirs. Destitute, the two returned to Bethlehem at the beginning of harvest, facing the end of the family line and, according to the laws of inheritance, all claims to the family land.
Except for one thing. In the law, God provided for something known as a "levirate marriage." In such a marriage, a close relative of the deceased could marry a widow and raise their first son as the heir to her first husband. While both parties had to consent to the marriage, it was an act of particular sacrifice on the part of the "kinsman redeemer" to relinquish his claim to his son in order to save another's.
If you know the story of Ruth, you know how Ruth found herself gleaning in the field of a man named Boaz, how he turned out to be a close relative, and how Naomi counseled her to seek his favor. You also know how he willingly and eagerly offered himself as her redeemer. But you may also remember that another, closer relative also had claim on the land, one who was all too eager to actualize. Eager, that is, until he realized that to get land, he'd have to marry Ruth and jeopardize his own inheritance in the process.
A friend of mine once remarked that how we care for the land often mirrors how we care for those dependent on it, especially women and children. Is our attitude one of entitlement and privilege? Do we see the land as serving us and our interests? Or is it one of stewardship and responsibility? Do we see the potential for life and goodness bound up in both?
In God's economy, inheritance is not about possession; it is about stewardship. Whatever we receive, we receive in trust, borrowing it from future generations. And so rather than preserving the ego of one man or expand his wealth, the goal of the levirate marriage was to preserve a family and the land on which they depended. Even if it meant doing so at great personal cost.
Boaz did eventually marry Ruth, redeeming her and the family plot; and their first child—the one who would continue the line—was none other than Obed, the father of Jesse, the father of David, the great-great-great-great grandfather of Joseph.
So when the angel appeared to Joseph over a millennium later and told him to take an already-pregnant Mary as his wife, God was inviting him to follow in the steps of his ancestor Boaz, to risk his good name and his own interests on behalf of another. God was inviting him to raise up a son who would redeem the family and the family land, saving his household from certain destruction. God was inviting him to mirror his own fatherly care.
If all this talk of male heirs and fatherhood feels not only archaic but like a way to preserve the legacy of norms that have marginalized women for centuries, I understand. But if conception teaches us the shape of hope and faith, can I suggest that fatherhood teaches us the shape of faithfulness?
After all, when a woman conceives and gives birth, there is little question about who the mother is. But biology being what it is, a father must declare himself. A man must publicly take responsibility for a child, and in so doing, commit to love and provide for this new life. When Boaz answers the call to be Ruth's kinsman redeemer, when Joseph answers the call to stand by Mary and raise Jesus, when any other good man does the same, they are mirroring the faithfulness of God himself.
We do not call God "our Father" because he is man or because he has a male body. We call him Father because that is the closest language we have to describe what he has done by publicly taking responsibility for us, loving us, protecting us, and granting us a share in the Divine inheritance. Unlike those who leave when they realize what it will cost them, our Father gives and gives and gives.
"What, then, are we to say about these things?" Paul asks in Romans 8. "If God is for us, who is against us?"
He did not even spare his own Son but gave him up for us all. How will he not also with him grant us everything?… Who can separate us from the love of Christ? Can affliction or distress or persecution or famine or nakedness or danger or sword?… I am persuaded that neither death nor life, nor angels nor rulers, nor things present nor things to come, nor powers, nor height nor depth, nor any other created thing will be able to separate us from the love of God that is in Christ Jesus our Lord (Romans 8:31-32, 35,38-39 CSB).
About the Author
---